The following post is updated from my Chemo_graph GoFundMe page created on 2/4/2020:
If you read my last blog post, you know I had a crazy idea to try and have my bald chemotherapy head signed by my favorite baseball player on the San Diego Padres (read about it here Base-Bald-Head) at the 2020 Spring Training in Arizona. After a whirlwind of media attention and even a shout-out from Fernando Tatis Jr. himself, I was overwhelmed with the power one simple sign and a Sharpie pen could have on the cancer community.
At the next game, my group of loved ones listened as I shared my idea: what if we could use this momentum to raise even more awareness for cancer, all cancer not just breast cancer which I have been diagnosed with twice and am currently receiving chemotherapy for in fear that microscopic cancer cells may be floating around in my body unable to be detected by our modern medical advances. What if something so simple as getting people to take power over their bald heads and have them signed, could do some good in the cancer community. I liken it to getting your cast signed as a kid (something I never "got" to do and lived out in a big way at that epic head singing moment!)
On our five hour drive home to San Diego, Jesse and I brainstormed name ideas and logo ideas–it's very helpful to have a live-in graphic designer boyfriend in the home! We thought of little details that snowballed into even more grandiose possibilities. But when we got home I realized I had my second round of chemotherapy and needed to put this growing seed of a dream away and prepare myself mentally for the next morning. I woke up scared (chemo sucks) and got as ready as I could. When I checked my messages I found even more emails from different media outlets wanting an interview. I won't lie, I get nervous each time I think about it all. I'm very outgoing one-on-one, and very very outgoing with the children I work with as a Speech Language Pathologist, but ones the spotlight is on I'm still working on being comfortable in my own skin…and voice…and facial expressions…and body movements. But this isn't about me. This is about Cancer which impacts not only those at each Stage of a diagnosis but their loved ones and care team as well who watch their battle and help in whatever way they can.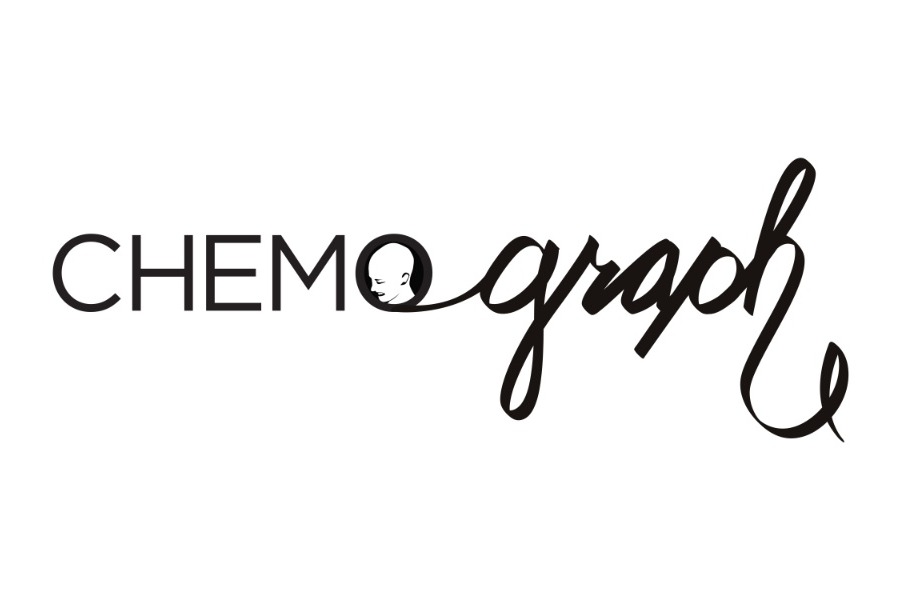 Chemo_graph is more than just a fun way to possibly interact with a celebrity, it's a way to show the world that while cancer may have made it so chemotherapy was your best option, and losing your hair is a mostly inevitable outcome, you can grab the bull by the bald head and do something fun with it.
That Monday, March 2nd, I was packing my Chemo-bag and moving my wallet over from my purse when I saw a black sharpie in the bag from Spring Training. They say lighting doesn't strike twice but in that moment it did. My Chemo-Team may have grown by one very influential player on the San Diego Padres whose kindness and willingness to sign my head started me down this path of wanting to do more. But my Chemo-Team has always included my family, my friends, and my doctors, one of which I happen to be seeing in just a few hours.
Armed with that Sharpie I proposed the idea to my oncologist, Dr. H, whose smiling eyes and quick laughter keep humor in the forefront of cancer just the way I like it to be. He was more than game and with a quick flick, Chemo_graph #2 was on my head and Dr. H couldn't help but exclaim, "Wow, that was actually really fun!"
Please join me in raising money if you can, or awareness if you can't, for cancer and chemotherapy in all forms in any and all countries of our world. For now, I will be sharing the money between two charities that have been a part of my first and second cancer diagnosis, as well as a third left open for the young man who (however unknowingly) helped start it all:
1. Young Survival Coalition (YSC) strengthens the community, addresses the unique needs, amplifies the voice and improves the quality of life of young adults affected by breast cancer, locally, nationally and internationally.
2. BKco matches EVERY hat sold one for one in donations of Bamboo Hats to Kids and Women fighting Cancer. #WrapThemInBamboo
3. A cancer charity of Fernando Tatis' Jrs.'s choice if I can make that happen.